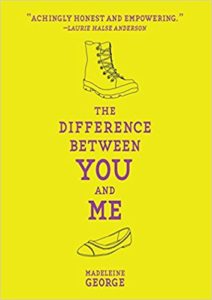 I was upset when I received my copy of this book, because I got it with no cover, but that's superficial. So, I carried on with my excitement to read all about Jesse and her adventures. Oh, my heart is so full right now. Currently, I am feeling an overwhelming amount of love towards Esther, Wyatt, and Jesse.
Forced Stereotypes

My reaction is that they are almost too stereotypical. Wyatt likes fashion and he's gay. He has a fling with the school bully. My word for it was "forced." But, I have accepted the characters as they are, after much consideration, because stereotypes are also fine. It's okay to fit into the stereotype. This is the case, but, we shouldn't assume that this is what everyone needs to adhere to. Jesse cuts her hair short, wears weird boots, and has no fashion sense. Raised by two left wingers, she's a lesbian who doesn't have qualms with her sexuality. It is so lovely to read such a character. I adore her so much because she's a breath of fresh air. She's passionate, interesting, smart, but is also understandably in love with a girl who will never love her back.
Real Connections

I've met someone like Emily. Despite it being difficult, I understand where Emily is coming from, I suppose. However, I just relate to Jesse too much; I am invested because I have felt the same way. So far, I haven't found a narrative to connect with over the gross feeling of being used. I don't know if Emily's homophobic. It doesn't seem like it. It's more like she doesn't want to admit that she's passive about her life. She goes down the road she's told to go on and she doesn't question it much. She's unsure of where she stands in terms of sexuality, and I think it's somewhat of a commentary on how popular culture and common societal rules dictate and limit girls' sexualities. It's clipped and tamed, subdued and unexpressed.
Real Talk About Relationships

Ultimately, this is what the novel says about relationships. They can be physical and woefully unsatisfying because there is no emotional connection. What Jesse shares with Esther is a series of moments where they bond as people, in platonic way first. I personally think it was somewhat overkill to have Esther's mom have cancer, too. Still, I adore Esther. She's a good fit for Jesse in the way she pushes her to be a better person, to think critically and go against the grain like she is inclined to, anyway. I think this is the novel's essential argument: relationships have less to do with how you idolize someone, and more with how someone actually presents themselves.
Critique of a Generation

The whole Wal-Mart thinly veiled critique was interesting for the novel. It reminded me of slacktivism and how this is a generation unable to make change happen because we're too self-aware and self-conscious, too afraid to actually take a stand on things. Or, we take it too far and alienate everyone in the process. It is a fascinating dynamic between Emily and Esther in the student counsel because they represent two completely different ways of living. While I strongly lean towards the way Jesse and Esther live, I feel like it's not fair to vilify Emily and what she represents, either.