Ah, April week 1 TBR Goals is here! For this week, I am not going to be participating in RYBSAT as strictly as I did last time. Instead, I want to focus on finishing up some series before Tome Topple. But my goal is to be more productive and engaged.
I want to comment on blogs some more, and interact with people in the book community. This is frightening for me, and yet it is a good challenge to have.
But, wait, I may be getting ahead of myself here. Let us get into my overall April Week 1 TBR and goals.
First: here is my over-ambitious TBR for the week.
TBR:
Ruin and Rising by Leigh Bardugo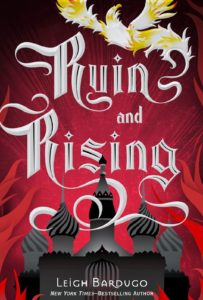 Nikolai is bae and I want to see him take the throne already. If I ignore the hints of how great Mal is, perhaps this book will turn out to fulfill my dreams.
What are my dreams?
I hope she ends up with the Darkling or Nikolai.
Other than that, I want her to be the Sun Summoner and be strong.
Winner's Kiss by Marie Rutkowski
Even though the second book made me want to punch the characters in the face, I would like to see a resolution for them.
I still love them and care.
Here's hoping someone kicks the Emperor in the face.
Maybe the puppy can pee on him, too?
A Conjuring of Light by V.E. Schwab
If I don't finish it this week, I am okay with extending it to Tome Topple. But, I want to be done with the series by the end of April for sure. What will happen to Rhy? What about Alucard, whose name is very hard for me to spell?
Kell, Lila, and Holland. So much to explore. I cannot wait.
Blue Lily, Lily Blue by Maggie Stiefvater (I know! I have to finish this quartet already) 
Many moons ago, I had wanted to read this darn book. But, the Dream Thieves threw me off a bit. I started out not liking Ronan. And, now…his life is more complicated and scary.
I love that guy.
But, I want to get to meet Henry already. (I see you, Tumblr, you're giving me unrealistic expectations of him).
My favorite remains to be Adam. And, I want to see what he does.
That Gansey dude is alright, I suppose (Just downplaying my feelings here).
Blue is goals for life. She is just a neat character and I adore her. I really do.
I have to continue the agony of The School of Good and Evil. D
id I mention my annoyance with this? But, I am curious now to see what will happen. How will this story unfold?
And finally, I am hoping to start reading An Ember in the Ashes throughout the week.
As always, I know this is ambitious. But, I like to keep busy.  Plus, the goal is to be more productive. I want to be more engaged.
Goals
For this week, I want to try to incorporate better time management.
Write more
Exercise multiple times a week
Read more than 2 books
This was my April week 1 TBR Goals. What are your plans for April's week 1? What are your TBR goals and overall goals for the week? I would love to hear what you have in mind!