Reading Time:
2
minutes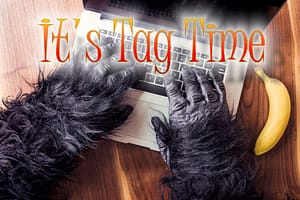 I was listening to Julie from Pages and Pens do this tag, and I thought to share my answers. This is the A to Z Book Tag!
Let's go.
A

uthor you've read the most books from:

Richelle Meade! If I get things my way, though, it'll be Robert Jordan by the end of the year, I hope!
B

est Sequel

I didn't really read series that much until last year, so…I would have to say The Dream Thieves by Maggie Steifvater.
C
urrent Read 
A Darker Shade of Magic by VE Schwab
D

rink of Choice While Reading

Water or hot tea.
E-reader 

or Physical Book 
Physical book, all the way.
Fictional 

Character You Would Have Dated in High School 
Not applicable. I don't date.
G

lad You Gave This Book a Chance

When the Moon was Ours. I'm in love with it.
H

idden Gem Book

Furthermore! Seriously good.
I

mportant Moment in Reading Life

A few moments shaped my reading life. 1) Discovering Goodreads and book-tube and book-bloggers, 2) Finding vlogbrothers on YouTube, 3) Reading The Hobbit for the first time.
J

ust Finished

When the Moon Was Ours and The Dream Thieves 
K

inds of Books You Won't Read

Thrillers, horror, erotica.
Longest Book You've Read
Order of the Phoenix (870 pages) 
M

ajor Book Hangover Because Of

I don't think I have ever experienced this. The closest shock of reading something was The Fault in Our Stars, but I think it's because I was unwell at the time.
N

umber of Bookcases You Own

4. 2 big ones, and two little ones. I have two tiny ones, as well, but they're for self help books.
O

ne Book You've Read Multiple Times

Harry Potter series and Lord of the Rings trilogy.
P

referred Place to Read

My bed.
Q

uote that Gives You Life

"What a slut time is. She screws everybody." The Fault in Our Stars.  From the same book, "That the thing about pain, it demands to be felt."

Always.
R

eading Regret
Not having read any Sanderson or Rothfuss. 2) Not having read the Daughter of Smoke and Bone trilogy yet (I know, I know!!). 3) The Raven Cycle. (Working on it)
S

eries You Have Started But Need to Finish

The Raven Cycle. Darker Shade of Magic trilogy. Girl of Fire and Thorns trilogy.
T

hree of Your All-Time Favorite Books

The Fault in Our Stars, Furthermore, Fangirl
U

napologetic Fangirl For

Cassandra Clare.
V

ery Excited For This Release

Tahereh Mafi's next release.
W

orst Reading Habit

I sometimes procrastinate when it comes to reading. But, I am trying to work on remedying this.
X

Marks the Spot–Start at the top left of your shelf and pick the 27th book:

Frostbite by Richelle Mead
Y

our Latest Book Purchase

Manners and Mutiny and Soulless by Gail Carriger
ZZZ-snatcher book (last book that kept you up WAY late):
Anything by Maggie Steifvater, especially her Raven Cycle series.