Reading Time:
2
minutes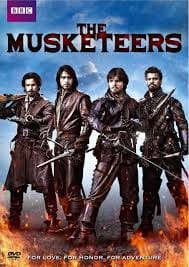 Another show with fantastic female characters is the BBC's Musketeers. At first glance, one would assume the show would have weakly portrayed women because of its name. The series is focused on the relationships between the main four Musketeers.  However, this adaptation does things differently through its portrayal of: Constance, Milady, and Queen Anne.
Constance Bonacieux
It's fascinating that Constance in this show is married. She is unhappy about the marriage, it is slowly suggested, as she goes on adventures with D'Artagnan and the Musketeers. For example, she helps with the escape of young Prince Henry, Louie's nephew. She even helps fight men throughout the series.
She takes charge of her own destiny when she openly asks D'Artagnan to, "Teach me how to shoot."  And, she is not a beginner, either. She is shown as strong and capable. She kicks butt.
But, it is not just her physical abilities that are impressive. I love that she longs for adventure. She tells D'Artagnan, "Things were quiet before you got here, monsieur." When he apologizes for this, she says that she doesn't miss it for a minute!
In fact, D'Artagnan understands that part of his charm is that he can help her have a life full of adventure.
Milady De Winter
The most obvious feminist figure on this show is probably Milady De Winter. She is unattached to anyone, and focuses on her own wellbeing. She is a rogue agent for the most part. Sure, she follows the orders of the Cardinal, but she also has her own way with the Musketeers, particularly Athos and D'Artagnan. Plotting for revenge, she is often shown as an angry force to be reckoned with.
From her attempts to get Athos killed to her assassination of various political figures, it is impressive to see such a remarkable strong woman at such an old time.
She is a fascinating figure as she somehow built her image, her rank, and networked her way through royalty. What can you not love about Milady?
Queen Anne
Anne takes charge of her world through her ruling. She is very sensible, and often clashes with Louie and the Cardinal. She is analytical and clever, questions Louie's mother, and in general grows into her own reign with strength.
I like that her love life reflects this strength. While infidelity is not synonymous with strength, I do think she has more control of her life than the average woman at the time did. She chooses to be with Aramis and chooses to keep his child. She chooses to be a strong-willed queen and not be ruled by her husband, who says that "I have never seen a woman with so many opinions."
Your turn:
What do you think of the presentation of women in BBC's Musketeers? Do you have any favorite characters on the show? Favorite relationships? Share in the comments!