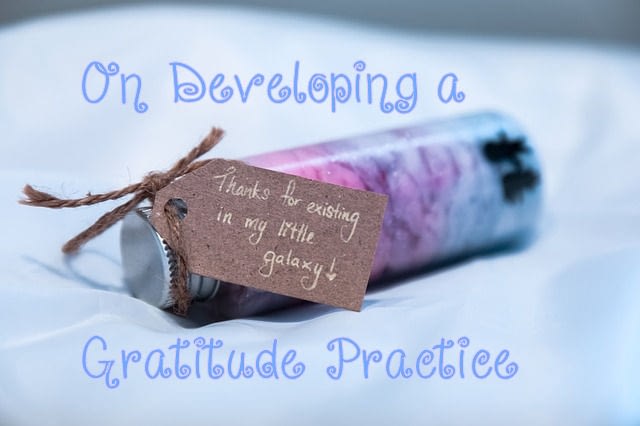 Sometimes, when I talk to certain people, I see it clearly. Negativity. Like a lot of it. Granted, my own knack for slipping into a nice bath of complaints has been around for ages. Still, I am not one to give into the default settings of my programming. I'd been toying with the idea of a gratitude practice, but it wasn't until Inge mentioned it that I saw it as a possibility. Here is my gratitude practice thus far.
3 in-progress learning experiences
I have looked into templates on Pinterest when I started this practice way back in November. The reason behind templates is twofold. First, it is to facilitate discussion when I am not feeling my best. Often, my moods settle on an epic low note for days or weeks, so I struggle to come up with coherent thoughts as it is. A template creates a routine to this journal. It also acts as a guiding hand, because I am out of practice when it comes to positivity and gratitude–and I admit this not as a point of pride. Not at all. I want to manage my mental health better.
Victim-mentality drives my narrative and I have a rather cruel lens filtering my daily ups and downs. Reframing the experiences as a learning opportunity is like earth-shattering information to me. I do a lot of panicking when conflict arises, and this template reminds me to try and stay calm.
Plus, I think when I look back and see lessons repeating, it neutralizes the dooms-day threat a little bit. It gives me concrete examples of this conflict repeating. Besides, it could act as a good jumping off point for meditation, journaling, and therapy discussions. Hey, maybe I'll be more self aware and conscious of how I interact with the world (that is the dream, to be quite frank).
a list of things i am grateful for
I try to list some stuff that makes me happy that day. Moreover, I try not to repeat too much. Now, obviously, sometimes duplicates will appear on my lists, but I do make it a point to not check what I wrote the day before until I am done.
but…testing more prompts
But, I noticed that my journal can be a bit cyclical by doing just two things every day. SO. I am incorporating more prompts. I want to reflect more on different things, and then derive my own gratitude nuggets from whatever it is I have reflected on.
The point is for it to be fairly brief and always consistent. So far, I had been journaling every couple of days, which is not that good. I am going to try it tonight, and keep it