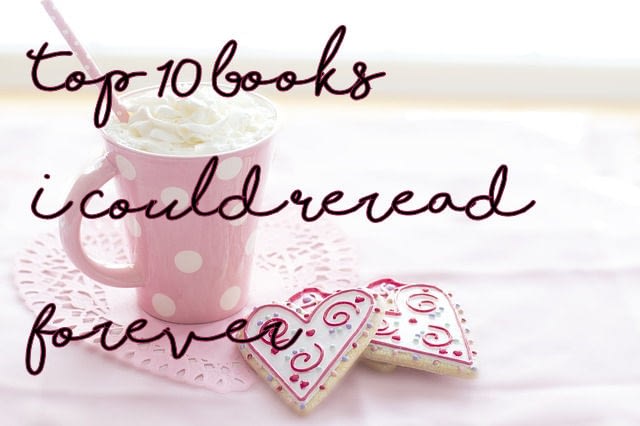 I'm back with another entry for the epic Top 10 Tuesday meme, which is now run by Artsy Reader Girl. Every week, we get a topic for us to list books we find suit the prompt (on a Tuesday). Today, I am bringing it back to the feel-good books that I could reread forever.
10. Pride and Prejudice by Jane Austen
This the only Austen I have read. I could use a reread right now, honestly, because I have read it over ten years ago. Jane and Elizabeth have such a wonderful bond. They are sisterhood and friendship goals. Having a young feminist figure like Elizabeth in this book warms my heart. She is critical of her society while maintaining a timeless charm. Her story with Mr. Darcy is forever dear to me, because it is ultimately a commentary on social interactions and the misgivings of first impressions.
9. The Great Gatsby by F.Scott Fitzgerald
Jolien hates this book, but, to me, it speaks to my longing for the past. It reminds me of my tendencies to romanticize people, collapsing them into stereotypes as I love the idea of them rather than their actual personalities. Gatsby, with his longing to fulfill the American Dream, offered a flaw in a system I once thought was perfect. The nouveau-riche plight for acceptance among the aristocratic class hit home for me. Plus, how can I ever not love Nick and Daisy. My beautiful Daisy, so frail and bitter. Perfection.
8. Always and Forever, Lara Jean by jenny Han
I remember feeling ashamed for liking the first two books of this series. People said Lara Jean was childish. To me, she appeared to be inexperienced with relationships. That did not make her unappealing. Instead, her journey to finding her place in the world, particularly in the final book, created a lovely narrative not entirely reliant on romance. I like the familial tones in this trilogy. Lara Jean is someone I aspire to become. The baking, the pastel colors, the crafting, all of it is endearing and heartwarming. I could never get sick of rereading her story. She is so dear to me.
7. Vampire Academy by richelle mead
You thought this post was going to be all classics and romantic books, didn't you? I love this series by Richelle Mead because of the central friendship between Rose Hathaway and Lissa Dragomir. I love their bond's strength despite their differences in personality, ability, and stature. There are varying kinds of greatness and success in this world. Mead is careful not to generalize features of strength. You can be sensitive and powerful. Or, you can be like Rose and kick literal butt all day.
6. Rebel Belle by Rachel Hawkins
I actually love this author's work in general. From what I have read of Hex Hall, Hawkins seems to have always had humor incorporated into her narratives. She includes interesting characters and places them in a seemingly normal world that is punctuated with notes of the supernatural or paranormal. It's genius, because her writing is both amusing, engaging, but not exhausting with its fantastical elements. Rebel Belle certainly manifests all these features of Hawkins' writing.
5. gemina by amie kaufman and jay kristoff
Listen, this series is a ton of fun. The kick-butt main characters and their equally capable love interests, the rather negative artificial intelligence in the series called AIDAN, are memorable and oh so charming. It is hard not to whiz through these books. Gemina in particular was a step up from Illuminae, which was already awesome in and of itself.
4. iron king by julie kagawa
I remember nothing about this series, except that it was a fun time if I don't think of other people's perceptions of me. It's  a story about faeries and changelings. Definitely, it is back on my shelves in time for a reread. I was going to give it away but decided against it.
3. Beautiful creatures by kami garcia and margaret stohl
This series is dark and charming with a nice lore for witches. It has lifetimes and reincarnations, a fantastic love story, and wickedly complex characters. The authors do such a wonderful job including a male protagonist who is unlike the typical men in young adult literature, especially paranormal or urban fantasy stories.
2. Hush, Hush by Becca fitzpatrick
I already repurchased the first two books of this series, because I cannot stop thinking about Patch and Nora. They are so sweet, and they endure such miserable circumstances. Besides, the best friend in this series is awesome. What is her name? Vee or Vi? Something like that. I can't believe I remember her. It's been a while. I cannot express just how excited I am to reread this series.
 1. Twilight by stephenie meyer
Another series I am repurchasing. The first two books are on my shelves, ready to be enjoyed. Bella and Edward's connection coupled with all the odds against them made for one hell of a story. Alice Cullen, Rosalie, Jacob Black, all of them are characters I think of often. I cannot wait to revisit these books this year and in the years to come.
Your turn
Do we share any books in common? What are your favorite books to reread? Are you rereading any of them in certain seasons or moods? Tell me all about it in the comments.
See you there.
xo
Roaring nerd moment