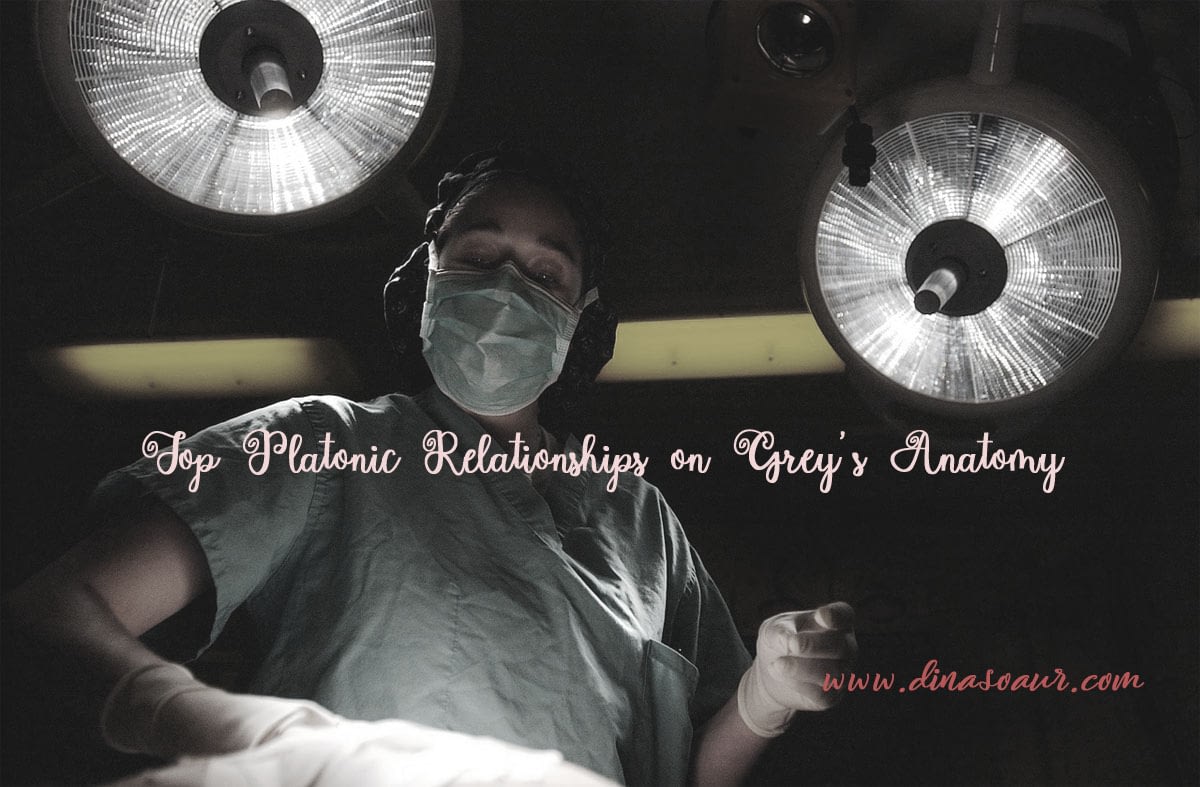 In 2018, one of my college friends introduced me to Grey's Anatomy. As someone who's not a fan of medical dramas, I did not think the show would resonate with me. I am not overly fond of doctor and I do not deal with stress well. This show features characters who are driven, competitive, and very self-assured (for the most part). Imagine my surprise when I discovered the most beautiful friendships ever on television to be on that show. Let me share the love between the least likely pairings ever.
But First, Let's Discuss Grey Anatomy's Premise
Grey's Anatomy is a double-entendre as a title. On the surface, it may seem to be a teasing reference to Meredith Grey's profession as an intern at a hospital. However, as the series continues to unfold, the show's writers start to peel back Meredith Grey's own social and familial anatomy. The audience discovers more about her history as a daughter, friend, up-and-coming surgeon, lover, partner, and even more surprising relationships she has along the way. I could write so many things about Meredith Grey. I will say this: the show has such a powerful depiction of relationships, particularly platonic ones, and I will share my favorites here.
Finding Your "Person:" Meredith Grey and Cristina Yang's Close Friendship
The titular character of the show is one with many secrets. A daughter of a medical legend, Meredith has a hard time finding her own footing. Besides, the iconic romance between her and Derrick Shepherd puts her at a disadvantage with her fellow interns. Upon her early interactions with Cristina Yang, one would expect animosity and disdain. After all, Cristina is sometimes abrasive and brash in her ambitious focus to get as much experience as possible.
"I talk about my 'ride or die' group and it's a very intense group of people. And one of the people on the list is Cristina Yang. And she doesn't exist. And I don't care." Rhimes went on to explain that she eventually realized that she used the character to say the things she was always too afraid to say.

Shonda Rhimes quoted in Libby Hill's 2015 Los Angeles Times article.
Cristina and Meredith repeatedly choose each other as their ride-or-die person. They trust each other with secrets. They share their tumultuous and messy romantic relationships together. On more than one occasion, Meredith put Derek aside for Cristina. Cristina was the first to know about Meredith and Derek. Unlike anything I have ever seen about female friendships between two driven people, Cristina saw Meredith beyond what anyone else had seen her at that point.
Even when Meredith collaborates with Derek, Cristina always reminds her of her own worth. One of the most memorable moments between these two friends is when Cristina says, "Don't let what he wants eclipse what you need. He's very dreamy, but he's not the sun. You are!"
A Different Life: Meredith and Cristina's Goals and Methods to Living Don't Affect Their Friendship
Cristina is very different from Meredith. She has no interest in having children but she adores Meredith's babies. She doesn't have an epic romance like Meredith does, and yet she always sympathized with the struggle of balancing between family and career for Meredith.
Yes, the relationship was not always perfect because, as every relationship goes, there are sour moments. Nevertheless, Cristina and Meredith put the beauty back in what the media does not celebrate enough: endless phone-calls with a friend, near-telepathic glances, and encouraging each other to press on, especially when the world does not want us to.
If you thought this was the most dazzling friendship yet, you have not met the characters of Grey's Anatomy.
George O'Malley and Miranda Bailey
These two characters snuck up on my favorites list quickly. Bailey was an enigma because she was presented as someone harsh. But, the more I saw of her, the more I recognized that she was a woman of color in a position of power. It is very likely that people dismissed her before. Flashbacks certainly indicate that she was pushed aside during her intern years.
Her experience as a woman–just as a woman, is definitely a reflection of women in the workplace. As I researched women in leadership positions, the numbers I found were dismal.
The share of women sitting on the boards of Fortune 500 companies has more than doubled, from 9.6% in 1995 to 22.2% in 2017.

"The Data on Women Leaders" by Pew Research Social Trends
Unconventional Strength
Affable and genuine, O'Malley falls behind the group of interns and is dubbed "007." He is dismissed frequently because of his gentle nature. No more starkly different people could've ever been connected. Yet, George took a stand when no one else did. For example, when faced with a patient who has a racist tattoo, Dr. Miranda Bailey saves that person's life. George confronts that patient and challenges his beliefs around race, "Well, Dr. Bailey did save your life today. A black woman saved your life, at a great personal cost. So maybe next time you're looking at your tattoo and you're thinking how much better all these white guys are better than everyone else. You might want to think about that. Cause between you and me, if I had been alone in that O.R., you would probably be dead right now. And since we are sharing belief systems, I believe that if you were dead, the world would be a better place."
George and Bailey bond as he assists in delivering her first born child. She is one of the people he says goodbye to in a clear note. Their friendship continues to be one of the most beautiful surprises of television.
Rough and Soft Befriend One Another: Alex Karev and Arizona Robbins' Friendship, its Beauty and the Universality of Pain
Early on, Alex Karev was presented as a mysteriously warped person. Plastering pictures of Izzie as a model was one of the first signs that Alex can be cruel. He passes along chlamydia to the nurses without informing them of his illness. As a rule of thumb for him, he avoids connecting with patients as much as possible. Friendless, he has no one in his corner.
One of the most wonderful aspect of his character development is his slow transition from what may seem to be "manly" sections of surgery. Addison Montgomery was a precursor to Alex's transition into Arizona Robbins' pediatric training of Alex.
Obviously, the sweetest moments were when he worked with the infants who had no chance. Beginning with his usage of the kangaroo method—a method where he placed a baby onto his bare chest to get the child warm and jumpstart their heartbeat.
Displaying a tough-guy image with strong notes of sleaziness, Karev was an easy target for audiences to pin down as an antagonist. When faced with cheerful and bubbly Arizona, Karev is in for a shock (and so is Arizona). It is humorous to see Arizona begrudgingly let Alex apply to fellowship programs.
Not all of their shared experiences revolve around other people's babies. The pain they experience in their formative years bonds them even more. The loss of family members definitely brings them to opposite reactions to cope with it.
Doesn't matter how tough we are. Trauma always leaves a scar. It follows us home. It changes our lives. Trauma messes everybody up but maybe that's the point. All the pain and the fear and the crap, maybe going through all that is what keeps us moving forward. It's what pushes us. Maybe we have to get a little messed up before we can step up"—

Alex Karev
Miranda Bailey and Richard Webber: Beyond Mentor and Mentee
Being a mentor to Bailey, Richard Webber quickly saw the brilliance of this intern. Moreover, he recognized the difficulties of being a person of color in a mostly white-dominated sphere. He provided an almost paternal care toward her. This in no way should be a discredit to Bailey as a surgeon. The truth is, there isn't much racial diversity in the medical field. Dhruv Kullar reflects on the progress medical schools have made as of 2018.
Between 1978 and 2008, 88 percent of graduates of U.S. medical schools were white or Asian. Blacks, American Indians and Hispanics together made up the remaining 12 percent. And while in some cases we've made progress, in othe

rs, we're actually moving backward.

Dhruv Khullar
Protecting Each Other
Because of these circumstances, Bailey and Webber are actually much closer than traditional mentor and mentees. Their friendship spins throughout the show into such a series of beautiful moments. Bailey skips her wedding to help Richard's ailing wife. With the assumption that she is well, Bailey returns to her nuptials. And, when he loses his wife, he keeps it to himself while he watches Bailey celebrate her wedding.
When she is up for the position of Chief of Surgery, Richard is the one to nominate her. He is the one to walk her towards what was supposed to be a celebratory meet-up of all the interns and doctors to congratulate her on her new position. He hands her his own stethoscope with a personalized engraving, just for her. Their relationship is one of unwavering support. Even when they disagree on the plans for the hospital's staff, Webber and Bailey never stop caring about each other.

Works Cited
Works Cited
Hill, Libby. "Shonda Rhimes on Cristina Yang, Split Pants, and No Regrets." Los Angeles Times. 16 Nov. 2015. Accessed 9 Feb. 2019. https://www.latimes.com/entertainment/tv/showtracker/la-et-st-shonda-rhimes-on-cristina-yang-no-regrets-20151116-story.html
Kullar, Dhruv. "Even as the U.S. Grows More Diverse, the Medical Profession is Slow to Follow." Washington Post. 23 Sept.2018. Accessed 11 Feb. 2019. https://www.washingtonpost.com/national/health-science/even-as-the-us-grows-more-diverse-the-medical-profession-is-slow-to-follow/2018/09/21/6e048d66-aba4-11e8-a8d7-0f63ab8b1370_story.html?utm_term=.7dc61b412e45
"The Data on Women Leaders." Pew Research Center. Jan. 2019. Accessed 9 Feb. 2019. http://www.pewsocialtrends.org/fact-sheet/the-data-on-women-leaders/