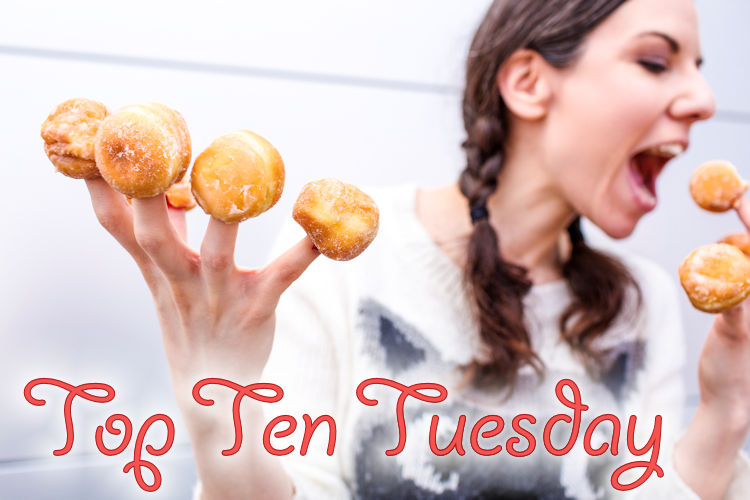 Welcome to another Top Ten Tuesday. This is a meme that was created by The Broke and the Bookish. I am leaving a link so you can check out topics and information.
10. Pride and Prejudice
Mr. Bennett left quite the impression on me. I still think about him often. His relationship with Elizabeth was sweet. Yet, his lack of interest in his daughters' lives was upsetting for me. To an extent, I understand that there was a disconnect between men and women back then. Even now, unfortunately, there is too much emphasis on gender as a whole rather than focusing on people individually.
9. To Kill a Mockingbird
Atticus Finch pretty much blew my mind away in high school. I was in awe of his decency, his kindness, and his understanding of people. The way he carried himself throughout the novel was inspiring. Purposefully, I avoided the "sequel" to this novel, because I knew that upon a revisit, perhaps the author would alter the image I had of this man. So, let's not talk about that book.
8. Fangirl
Arthur Avery. I remember that his life mental illness hit home for me. He had the highs and lows which are so familiar to me. Besides, he was a supportive father, a single dad, and a loving figure in his daughters' lives. I just love that he was the constant in his kids' lives, which is something rare in YA.
7. Harry Potter
Sirius Black is very problematic and I love him so dearly. But, even more, I think of Albus Dumbledore so frequently. I think of how much he protected Harry, how he guided him, and how he was a frustrating dude. He was a real person, and there's so little of him truly in the books. And, I kind of like that we don't know Sirius and Dumbledore very well, because they have the potential of being incredible human beings, but there's also a hidden mystery to who they were.
I could talk about these guys all day.
6. Castor Chronicles
Macon Ravenwood is one of the most tragic figures I have ever encountered. He reminds me of Boo Radley, in that he is a shut in and there are plenty of rumors about him. His strange nature makes me love him so much. Yet, he has so much pain in his past and present, and I cannot even explain how much hope this man gives to Lena and to me, as a reader.
Oh, and obviously he reminds me of Atticus Finch.
5. Dark Artifices
Arthur Blackthorn has mental illness caused by fairies. And, he is unable to stay in the present. I can relate to him so much, and his actions in Lord of Shadows make my heart just swell with love. What a dude!
4. Mistborn
Kelsier is the best dad ever. I mean, he is not Vin's biological dad or anything, but he takes her away from her awful life, and helps her come into her powers as a Mistborn. How can I not love this guy?
3. Aristotle and Dante Discover the Secrets of the Universe
The dads in this book are wildly different, and yet they both support their sons in beautiful ways. I wasn't a fan of this book, and yet I fully admit that these two dads were anchors for their children.
2. The Fault in Our Stars
The parents in this book are fantastic. They support Hazel through a really difficult situation that no parent is ever fully prepared for. Cancer and terminal illnesses like it are just so hard to process for everyone involved. And, Hazel's parents handle it with grace, kindness, and understanding.
 1. Lord of the Rings
You thought I'd forget about the awesome dads in this trilogy? Come on! Never! The two figures who stand out in this series to me are Bilbo Baggins and Gandalf. Bilbo took in young Frodo and raised him to be just as strange and adventurous.
Gandalf took care of the Hobbits, and maintained political relations between so many races in this series. He's the best!
Your Turn
Any favorite father figures in fiction? Share them in the comments!