Reading Time:
2
minutes
If you ever want to experience a love story, a beautiful one at that, read on. I watched Love, Rosie because the trailers were just breathtaking. A story of two people missing each other over and over can be exhausting, but it is not the case for this film. It is a lovely story about two friends, best friends, who are not sure if there is more to their relationship than platonic love.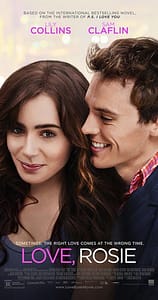 And, they go through relationships with other people, longing for each other, trying clasping hands and staying together in some form or another. The relationships are not negative in any way; there was no demonizing of anyone. I mean, there was cheating involved, but it did not make the people seem like bad people. They just didn't work as a couple. That's life.
Maybe this is why the film means so much to me: it is one of the few films that deal with my age group without making us sound like boring people. You don't stop having feelings after you are eighteen. Unfortunately (or not), that is not how it works. Heartbreak is still a thing. Trust issues, clarity, confusion, agendas: these are all things we see in the film. We see what it means to find a soul mate, no matter what the age, no matter how quick it can happen.
There's crying in this film; there is heartbreak, obviously, but there is also joy and beautiful, beautiful cinematography. Wonderful acting is another positive aspect of this film.
Guess what, though? I would not recommend the novel. It drags on and on. Just watch the beautiful film and enjoy a love story that doesn't depress you.