Reading Time:
2
minutes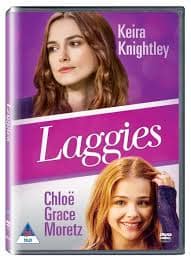 I am a big Keira Knightley fan. I adore her so much. So, a while ago, I was perusing the Internet and found this trailer of her movie Laggies. It just spoke to me on a deep level, because, well, I feel kind of lost right now. It feels like everyone is moving on and I am not fitting in with the group of people I thought I'd be with for the rest of my life, sort of like Keira's character in the film.
So, I bought the movie. It's one of my favorites now because it is endearing and sweet. It is touching and thought provoking. Maybe loss should not be so negative in my mind because, we all lose things in life. It is kind of the point of growing up: losing things is natural. We let go of things and then new elements kick into our lives, and all we can do is accept these changes, or change life even more. Again, we are not really the boss of our lives, I get that, but what's the point in forcing things that are no longer there? We all change over the years, and so…why cling to people and ideas that are just old and tired, stale and stiff over the years.
Now, I love the humor of the movie, too, and the beauty in the relationships. Things are complicated and Meg (Keira Knightley) has to figure out stuff. And, she does it over the course of a week. Is that too short? Maybe. Is it possible? Maybe. It has taken me years to accept my illnesses, and sometimes, I still reject them as part of my reality. By the same token, I also reject that some of my friends are no longer a good fit for me. I do get it, every time I watch this movie, I realize that it is okay, it is acceptable, it is fine to just move on and stop trying so hard to keep relationships alive. It takes two to tango, as they say, and I am tired of dancing alone with inanimate objects.
Meg broke off from her friend group entirely, and so have I (unintentionally). I don't think you have to break up with people. I used to think that way, but sometimes, you just have to let go and not say much, because, well, some things are better off unspoken. This film taught me to laugh, to accept my growth and my journey, and to let go of the hurt and harm of toxic relationships. It has taught me that being an adult doesn't mean that there's no fun to be had. You can be young at heart and still be a functioning member in society. Totally doable.
Do check out the film. It is awesome and underrated.