Reading Time:
2
minutes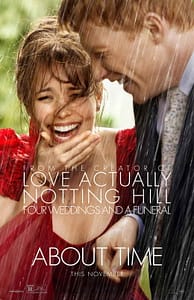 There are things in my life that were constant. One of them was a fascination with time. I never liked time traveling stories, though, because it was something I could not comprehend. Time was complicated and cruel. It made me feel not only used, but empty, trashed, in fact. It feels like time mocks us all. It certainly has not played fair for me, especially the past four years. They have passed so quickly and yet so slowly. It is a paradox, I know. Too often, there were days where I just felt breathless–lifeless, if I am being honest.
So, when I watched a movie about a time traveling man, I was surprised that I loved it. "About Time" is a wonderful story about appreciating life as it comes. It is about relishing things thrown our way and not losing a pep to our step. Not ever. Even despite the losses, the pain, the awful days we experience sometimes, it is important to always try to be graceful. Try to be happy and full of love. For me, as someone with depression, I think this is difficult to accomplish, but not impossible. Maybe if I step outside the haze of sadness and grab life by the coattails, I'd be up for a happier time on this earth. Honestly, the movie was so, so beautifully made.
I think, there is something else to consider from this film, which is that love is a wonderful force to behold. Romantic love comes when we least expect it, and sometimes we love people who are not good for us (Like Kit-Kat's situation or Charlotte). Sometimes, we think we're in love, but we really aren't. I have never been in love, so I don't know what that is like. I cannot speak of what I do not know. However, I can only imagine what that might be like. And, yes, it sounds tricky. It is like trying to bottle up a rainbow or something. The neat thing is that Tim loves his family, too, and he does not forget about them after falling in love. Instead, Mary is integrated into the family very quickly.
One more thing about time travel from this film: it is not necessary. It is not important to impress people. Those who love us do love us completely (I hope so, at least). There is no need to perform an act or two to make good impressions. Being earnest and honest is more worthwhile.  There will always be people who do not like us. It is fine. I know, it is so much easier to say this than actually accomplish it. I may kick myself in the face (somehow) for saying this. Mostly, though, I am appreciative of the lesson.Strongly recommend watching the film. It is one of my favorites for sure.