Reading Time:
2
minutes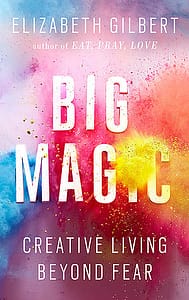 I'm a fan of Eat, Pray, Love. Having listened to many of her speeches, I became a fan of Liz Gilbert. Naturally, I gravitated towards her new book Big Magic, which is a book about creativity and inspiration. It is such a wonderful book. I gave it five stars. I enjoyed it immensely. Let's talk about it. It was awesome.
In this book, Liz Gilbert talks about her relationship with creativity and how she approaches it. I thought it was such a great reflection that taught me so much. I learned that creativity is something to be cultivated and fostered. It is part of our well-being. It is, in short, part of being okay. So, I need to be more creative. Write more, read more, dream more. I used to feel more, but I got scared of myself, of letting go of control. I think control is underrated, though.
Part of creativity, I have learned from Gilbert, is about taking chances and being brave enough to face fears. Old Grandfather Fear is part of the creative process, but he is to be faced and mostly ignored. He does not get to pick the snacks; he does not get to play the radio. He does not have control over us. At least, he should not be given the keys to the car. He can be part of the journey. But he should not given power over us.
Another thing I learned is that it is important to focus on being a trickster when it comes to creativity. Have fun. Don't take it seriously. Don't approach it as a sacred process. It is fun. It is supposed to be fun. And, I have forgotten this. I have been waiting for inspiration to strike, for a sense of beauty to come into my life. But, what if it is within me? What if I can be happy just creating images, poetry, blog posts, tweets, anything…I can express myself in so many ways. I have been defined by people as an artist. I have not seen myself as such because I thought of artists as martyrs, as holy people. I just want to create things every day. Express my fears, my dreams, thoughts. I think I should allow myself to do this daily, even if it is not perfect or "good."
If you would like to learn more about ways to find creativity and inspiration, check out Big Magic. It is a beautiful, wonderful book. I cannot recommed it enough!