Reading Time:
2
minutes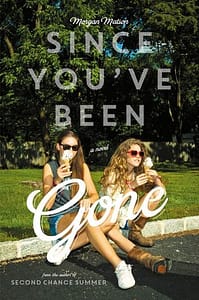 When I approached
Since You've Been Gone,
I slacked and hesitated. Then, one night, I was shaking and sweating profusely. I couldn't sleep and the world felt unbearably dark, so, I pulled out the cheery cover of Emily and Sloane's story. I begin and I don't stop till I am done with the book.
In Since You've Been Gone, Emily is part of a dynamic duo. It reminds me of my friendship with a person much louder than I am, more confident, more charming, just like Sloane. I identified with Emily on many levels, because I have never been self-assured and my anxiety prevents me from doing anything uncomfortable. I live in my own shell, like her, and I tend to be overshadowed by others. So, I had a keen interest in seeing how she grows and flourishes as a young woman, friend, partner.
Character Relationships

My favorite thing about this story is the characters. I adore all of them, especially Emily and Sloane. Speaking of which, Sloane falls under the manic pixie type of character, at least at first, but as Emily has more distance, she starts to see the cracks in the facade, and encourages Emily to open up about her insecurities regarding her family, relationships, friendships, and courage.
Courageous Characters:

The most beautiful aspect of this novel is the courage all the characters have. It takes a lot of effort to be strong and happy, to be adventurous, to be open to new people and experiences. I like that the lists they two friends make for each other are not over the top crazy. There is beauty in doing the smallest courageous acts. Ride a horse. Hug a Jamie. Apply for a job. Be part of nature and have a sense of wonder. Collins bravely faces his fear of rejection and asks out Dawn. Frank confronts his failing relationship with Lissa. It's not just Emily and Sloane changing; it's all of the characters moving through life and learning, which is absolutely lovely to see. It's refreshing to see female characters focused on more than romantic relationships. I like that Dawn, Sloane, and Emily aren't competitive or jealous, either.
Overall: 
Morgan Matson is becoming one of my favorite authors because she comes across as a thought-provoking person. I like that she echoes the themes of expanding horizons, and imagining people complexly. Yes it's a book disguised as summer sweetness, but I think it's got more going on with memorable relationships, gorgeous moments, and awesome music.