Reading Time:
2
minutes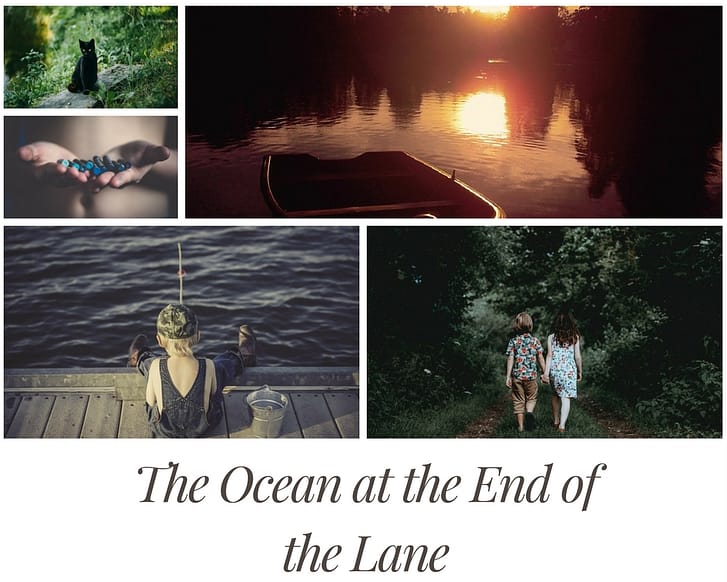 I finished reading The Ocean at the End of the Lane on the last day of 2017. My brain has been struggling to contain the excitement of having read my first Gaiman novel. Seriously. In some ways, The Ocean in the End of the Lane will always be special to me, because of its content. Uh, let me dive into this review, though, because I can gush all day.
premise
An unnamed middle aged man returns to his family home, and recalls the adventure of a summer he spent with childhood friend, Lettie Hempstock.
theme–childhood and imagination
My favorite aspect of this story has to be the magical realism feel to it. Throughout the novel, it is unclear if the story is literal or figurative. This blurring of reality with imagination is very much rooted in childhood (from what I experienced).
But, also, the charming factor in this story has to be the way the characters behave. Sure, we go on a supernatural kind of surreal adventure with monsters and a worm that turns into an awful creature. However, the children (unnamed main character and Lettie) behave like children. They talk like children, and they cry, throw tantrums, and argue with their sister (well, this is mainly our dude character, but hey).
Gaiman creates such a rosy view of life at first, but then, it is warped and scary in parts (nothing disturbing, but it will linger for a bit).
Speaking of which…
darkness in the so-called "pure"
The story begins with a quote about children remembering or knowing things that adults assume they wouldn't. It's about the way we undermine children and their maturity. Truly, our unnamed hero and Lettie see some really dark stuff, stuff we wouldn't expect children to comprehend, and they fight valiantly.
As I have said earlier, I am in awe of this teetering balance Gaiman strikes between child characters, surreal story lines, and darkness. I am intrigued by Ursula Montakin, her connection to our main character's family, and what that really means in regards to children's understanding of infidelity, gender roles, and family dynamics in relation to all of these things.
There is a scene in particular that stunned me: the bath scene with our main character's father. In some ways, it highlighted the idea of embarrassment and shame contrasting with social expectations from parents. Like, maybe it's just me, but I don't see parents negatively when they can't "control" their children. But Ursula signifies the pressure on parents to be authority figures, even if it means they get to act aggressive.
friendship and family
Most importantly, this is a story about found-family vs. blood family. I think our main character would have loved to see Lettie and her strangely beautiful ocean at the end of the lane. Her family, equally invested in child-like wonder and superstition, lead a safe home to the main hero. It is a home he goes back to, over and over, with and without Lettie.
It is such a telling sign that Lettie's legacy, consciously or not, drives the main character to return for refuge throughout his life. If this isn't what the best friendships are about, I don't know what is.