Reading Time:
4
minutes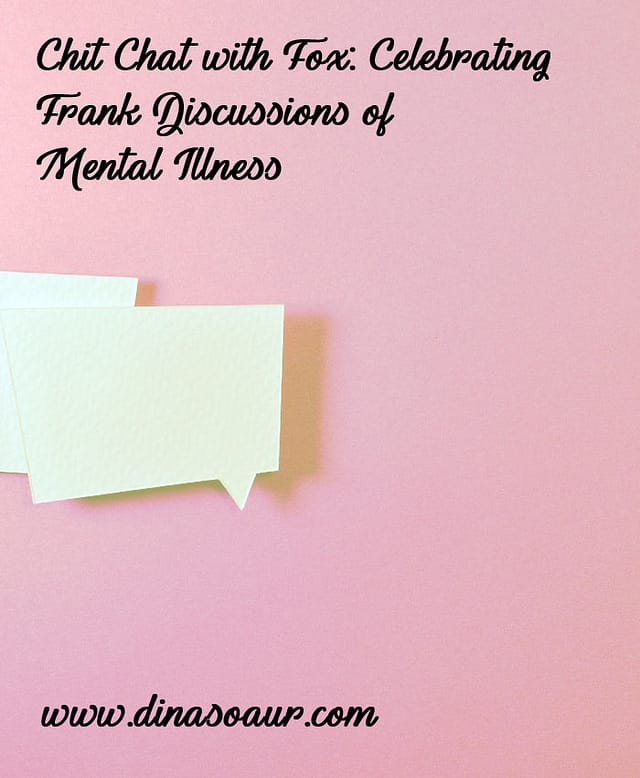 It is my intention to celebrate the gems I find as a reader, writer, blogger, and (small) world trotter. Today, I am sharing a conversation I had with Fox, a queer and non-binary mental health blogger. They have been blogging for a while now and they have been frank in sharing their journey of self-acceptance as someone with mental illness. In particular, I admire their ability to step back and be a force for educational goodness.
Check out our interview below, and please give their blog a follow. They write over at: https://thepatchworkfox.com/
On to the conversation!
What was your mental health journey like? Do you recall any frustrations you had when you were younger?
Fox : My mental health journey has been a long one. Looking back now, I can see I started with symptoms of mental illness in my childhood. It has been a long and frustrating road to eventually getting the right diagnosis and the appropriate therapy, which only happened in my mid/late-twenties.
I spotted a collection of poems kind of post on your blog. How do you approach poetry as opposed to blog-writing? Does one come more naturally to you than the other?

Fox: This is a great question. I can't say that one comes more naturally than the other, but I do find poetry slightly more difficult because it requires accessing emotions that are sometimes uncomfortable or upsetting. However, the result is something that I am proud of, so it's worth it.

Are there any mediums you'd like to explore as a creative person?

Fox: I've always wanted to try singing lessons, as I've always loved singing, but my self-confidence isn't quite there yet!

[socialpoll id="2536222″]
For me, I was often looking for artists who had the same struggles I had as a person with mental illness. Do you have any favorite role models or cautionary tales?

Fox: I think for me, one of the most important things that I have come to learn is that the only role model I should be looking at is myself. I've spent so long trying to be like, or "as good as" other people, but now I'm starting to realise that life is not a competition. There's a quote I like: The only person you should try to be better than is the person you were yesterday.

Speaking of which, do you have any favorite books or authors? If not, what are some topics or genres are you interested in reading about?

Fox: My favourite book is But Inside I'm Screaming by Elizabeth Flock. It's a story about a woman who has a breakdown and ends up in a psychiatric hospital, so as someone who has experienced this, it was really powerful and validating to read a well-written and realistic depiction of this. It's also a story of hope, which is the kind of book that I tend to gravitate towards.

If you feel comfortable discussing this, go for it. While seeking psychiatric help, did you feel like doctors listened to you? And, did you feel like they respected your identity (In terms of gender and/or sexual-orientation)?

Fox: This is a difficult one to answer, but I'm happy to try. As I mentioned before, I feel like it took an unacceptable amount of time for me to be properly diagnosed and given access to the right treatment, and I have encountered some shockingly inept mental health practitioners and GPs. However, I'm incredibly lucky to now have a wonderful Community Psychiatric Nurse (who is also my care-coordinator), and she has been pivotal in helping me to make the most of my treatment. She has also been incredibly supportive since I came out as non-binary, and in terms of my sexual orientation, that was absolutely fine. She's been so understanding, and if there was something she was unsure of, she would just ask me, and once she knew the answer, she would just pick up on it and run with it. I couldn't ask for more support from her, she's great.

You are a cat parent, which is my favorite kind of person out there. What was the story of you and the kitties becoming a family? Do they affect your mental health in any way? If you could speak cat-language, what would you want to ask/communicate to them?

Fox: My kitties came into my life because my former co-worker adopted two of the other kittens in their litter. They had been saved by a rescue after they were dumped in a box. I went to visit the rest of the litter (there were five left) and I spent a little bit of time with them all, and I felt that Anna and Elsa (renamed by me) were the right fit for me. They have been absolutely crucial in helping me with my mental health – there have been times that they have literally saved my life. If I could speak cat-language, I'd tell them I'm so grateful to have them in my life, and I love our little family.

Finally: do you have a motto or a message you'd want people to keep in mind while reading your work? (Aside from expecting awesomeness).

Fox: I don't have any great words of wisdom, but all I try to do is use my lived experience to help others understand or feel validated in their experience. I'm not a professional, I'm just someone who has experienced mental illness for most of my life, and if I can help just one person by telling my story, then it's worth it.

Make sure you give Fox love. Support great content creators and celebrate the beauty of having such wonderful people out there.
Know someone who'd make a great guest on here? Send me an email with your nomination. Hit the Contact Me section on here to send your suggestions.
Until next time,
Stay quirky and curious