Reading Time:
2
minutes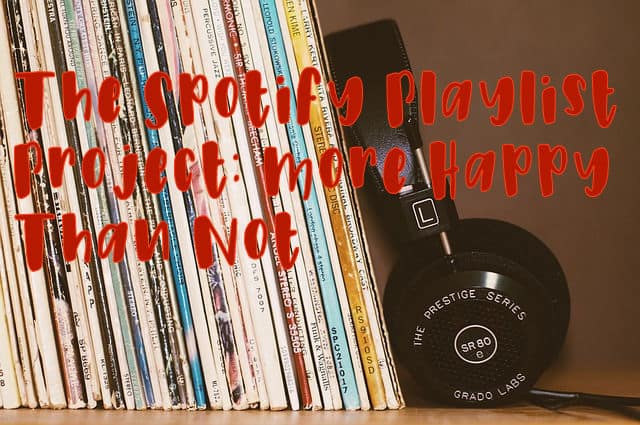 It's been a while since my Spotify Playlist Project entries have rolled on this blog. Let's remedy that with a playlist dedicated to Adam Silvera's More Happy Than Not. 
Here we go!
The Beginning
We begin with "Sucker for Pain" as a reflection of Aaron's relationship with the group of young men in the neighborhood. There is pain in forcing oneself to fit into a mold of masculinity so toxic. The song also signifies his self harm and suicide attempt.
"A Most Peculiar Man" by Simon and Garfunkel sets the mood for Aaron Soto's story as he grapples with fringes of a relationship with Genevieve. It also doubles as a tale on Thomas, the mysterious boy he runs into.
Next, the Eels' "I Like Where This is Going" is another song about our main character finding his connection with Thomas, and even Connor. I'll be quiet to avoid spoilers, though.
The Middle Revelations
Aaron has a tumultuous relationship with his father, and I think of "Father and Son" by Cat Stevens as the song to touch on the tension between them.
"Blame It On The Girls" by Mika dishes on the loss of Aaron's father, on the problems Aaron faces with Genevieve and Thomas. He battles demons he thought he'd hidden well.
As Aaron deals with the confusion with Thomas and Genevieve, and even Eric, Mumford and Sons' "Believe" steps into the narrative with ease as it captures the shock and the disbelief that Aaron experiences. He is so alone at this point.
An End
"You Could Be Happy" by Snow Patrol and the break down of Aaron's friendships and relationships go hand in hand to me. I just feel like this is a nice play on the More Happy Than Not title, as well.
This leads nicely into "Gone Away" by SafetySuit, where Aaron deals with the lapses in memory, with choosing to forget again and again. It is about falling in love repeatedly, with breaking someone's heart twice, with hiding a secret and hoping it'll be gone away.
Obligatory collapse of relationships song: "I'm Gonna Find Another You" by John Mayer because I believe Aaron will find someone else. Also: bonus points if you pick up on how this song reflects on his previous relationships.
So, what would the song be for the whole series of choices that Aaron makes and his realizations: "That's How You Know" by Nico & Vinz, Kid Ink, Bebe Rexha.
Want to Listen?
Here's the playlist. Enjoy!