Reading Time:
2
minutes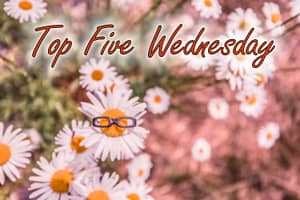 T5W, or Top 5 Wednesday, is a meme that is run by Sam from Thoughts on Tomes. The Goodreads Group is right here, for you to check out topics and participate with us. This week, my T5W is about authors I want to read more from. Some of these authors, I have not read anything from at all. Others are ones I have read a work or two by them, and I want to read more. But, over all, they are authors I would like to read more from regardless of how much I have read from them already.
Let the list of my top 5 authors I would like to read more from begin!
5. Rae Carson
I have read the first book of her Girl of Fire and Thorns. While her pacing is a little off in that book, I remain interested in her work because I am hoping to finish up that trilogy and read her new trilogy. She writes complex worlds and nuanced character development.
4. Cinda Williams Chima
Slowly, I have been gathering up her books. Now that I have read the first book of Mistborn, I want to explore high fantasy some more. While I am interested in reading more Sanderson, I want to also read fantasy from women's own perspective.
3. Brandon Sanderson
Having said that, I really enjoyed most of the Final Empire and so I want to read more Sanderson. Over the past year, I have been collecting some of his work (a lot of his work, actually). Part of this interest stems from selfish reasons. Sanderson talks about how he is a slow and steady writer, and I am pretty slow when it comes to writing as well. And, I think he writes poignant relationships, vast worlds; how can I not be interested?
2. Neil Gaiman
Stardust is one of my most treasured movies, and I want to write fantastical and dreamlike narratives just like Gaiman. He seems to have a humble, yet strong sense of style and poise in his fiction. All I can think of is how great it would be to pick up some stylistic lessons from reading his work.
  1. Roshani Chokshi
Lush beautiful writing, based on what little I have read from her, and culturally rich stories. As a wanna-be author of color, I am inspired by other women of color who write stories where they are meshing their cultural influences with traditional mainstream stories. So, Hades/Persephone story infused with Indian mythology is what I have heard about her first book, which sounds brilliant to me.