Reading Time:
6
minutes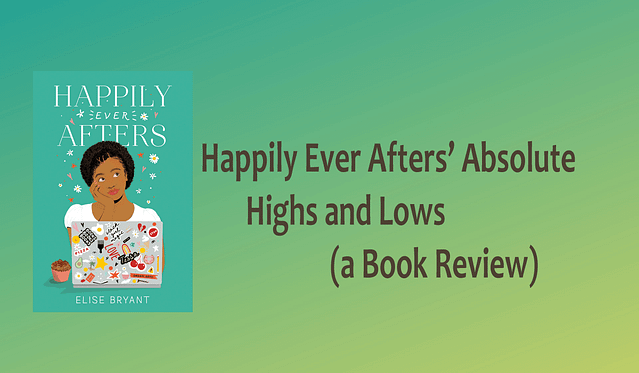 In Elise Bryant's Happily Ever Afters, Tessa Johnson and her family are new residents of a California town. Tessa is now attending a new school for gifted teens. But, she goes to the school with a mystery as her mother has applied on her behalf and selected writing samples from her work, much to Tessa's dismay. Faced with an unprecedented writer's block, Tessa and her best friend Caroline concoct a plan to incorporate romance elements novels in Tessa's life. The project is to give Tessa a real-life Happily Ever After to inspire her. Can Tessa have a happy ending with her crush Nico despite him having a girlfriend? Can this potential relationship spark Tessa's writing inspiration once more?
Table of Contents
Read more

: The Absolute Highs & Lows of Happily Ever Afters (A Book Review)
How Sam and Tessa's Connection Binds Happily Ever Afters Story
Sam is introduced within single-digit page numbers after Tessa. Looking at his on-page scenes, it is clear that he is an important character in the story. The author carefully weaves Sam's sense of identity as a contrast to Tessa's uncertainty. Sam is used throughout the story as an anchor to Tessa's chaos. To her detriment, Tessa is deeply self-aware. Some of this is rooted in not wanting to attract any attention, especially as a woman of color.
On the other hand, Sam is comfortable with himself from the start. He is immediately described through a flourishing fashion faux pas. He wears Hawaiian shirts: loud shirts that mostly older men wear. I say this as someone who has exclusively wearing-Hawaiian-shirt uncles. They look good in them, but Tessa's criticism has a point. Sam wears what he likes without getting too hung up on what his appearance suggests about him. This mirrors Sam's willingness to explore his craft, something that Tessa is unable to accomplish throughout the book.
Sam's Creativity as a Thoughtful Foil To Tessa's Writer's Block
Although Happily Ever Afters presents itself as an exploration of romance, my favorite element is the connection between Sam and Tessa's creativity. Tessa strains for inspiration to write both for her writing class and for her personal stories. In contrast, Hawaii-Shirt Sam presents a different (yet solid) approach to creativity.
He acts as a foil to Tessa's relationship with writing, which adds more depth in Happily Ever Afters. She avoids her writing for most of the novel. Sam, on the other hand, is engaged with his craft throughout the book. Whether it is searching for inspiration at other food establishments, or trying out a new recipe at home, Sam is often captivated by his creative process.
Tessa's creativity appears in her avoidance of her writing teacher or her classmates. Here's one of the potential storylines that I would have wanted to see. I looked forward to an exploration of Tessa's relationship with writing for an audience. While we know that Caroline is the only one reading her work, it is unclear if her fanfiction received any feedback. Does she have any experience with publishing her work within a schedule? How comfortable is Tessa in writing romance? Does she read romance regularly? Is there more to her fear of criticism?
For a character whose writing is presented as central, Tessa's writing is mostly absent from the story. To be fair, Tessa is going through writer's block for most of the story. However, I wonder if she would have benefited from interacting with previously written pieces throughout the book. I wanted to see more of her work. How does she portray romance? What other books inspire her? Does she have go-to tropes that she connects with most?
Sam, however, has a more developed history with the culinary arts. He was critiqued on a larger scale beyond just a school. Rather than lash out, he is open to honing his craft despite this negative experience. Bryant does this well. She does not immediately reveal why Nico and his group mock Sam. Instead, she lets the pressure simmer long enough for readers to make guesses while also growing attached to Sam.
Tessa and Her Mother Duo Keeps The Main Character Likeable
Happily Ever Afters' biggest triumph is the relationship between Tessa and her mother. Bryant creates a beautifully complex familial presence in Tessa's story. Tessa's mother is supportive, despite having a demanding job. Tessa attends the school for gifted students because of her mother. Her mom filled out that application and selected pieces from her daughter's work. She celebrates her daughter's wins and empathizes when Tessa is deflated by her lies.
My favorite scenes were the ones with Tessa and her mom because there are intricacies to their bond. While her older son, Miles, has been disabled for a long time, she is overwhelmed by the responsibility of taking care of her children and balancing her job.
Tessa mentions days when she and her mother would take the day off from their responsibilities and hang out. It's like a mental health day but with your mom. That sounds like a blast!
Lest you think they always get along, Nope. Tessa and her mom have epic fights. Sometimes, Tessa's dad has to bridge the gap between them. I love that, too, because Tessa's mom often celebrates her daughter's
Other Young Adult books with great family depications, like Happily Ever Afters: The Lesbiana's Guide to Catholic School by Sonora Reyes, The Poet X by Elizabeth Acevedo, To All the Boys I Loved Before by Jenny Han, The Opposite of Unrequited by Becky Albertalli,

Just Dina Sharing Some Book Recommendations
Rushed Development Topples An Otherwise Strong Story
Happily Ever Afters fails as a story because it does not allow time for Tessa to develop. Solid character development requires some prerequisites. First, the character must have enough likeability for audiences to root for them. Next, the character needs to be driven to be developed by various motivators. This next part is crucial: an arc must be present where the character's development can be traced.
Tessa's lack of a development arc is ultimately what weakens this book's impact. Sure, Happily Ever Afters features hints of Tessa's growth rather than having tangible developments. There is no arc to her story. Instead, there are suggestions of who she could become next. That makes her story unsatisfying. The audience is led to imagine her growth, but we do not get enough of her development on the page to root for her.
This issue stems from the quickness of her transformation. One minute, Tessa is seeking out a boy who has a girlfriend. Next, she seeks a different path altogether. She does not stay long in discomfort: there is no sense of reflection, retracing of her steps, or a reconsidering of her path.
For instance, her connection with Nico is not negative because he is not a worthy person. It is, instead, because he has a girlfriend. Books do not need to be didactic. It is up to readers to discern right and wrong. In a perfect world, you'd have discussions about what teens are reading. However, Poppy is shown as a vindictive and cruel person. Yet, at the book's end, she hints at being once like Tessa. It would have been powerful for this realization to take over the narrative for a longer time. How did Poppy become insecure about her relationships? Is this an issue only with Nico or is it in her friendships as well?
Humanizing the bullies might be a stretch for readers to normally trust. But, isn't Tessa the bully of her story? To Caroline, especially, Tessa is not a good friend. There is not enough time shown for her to do the work and do better. Instead, it is set past the book's ending. Tessa had no weight for her social demise. There is not much hope for her beyond the ending. She hasn't shown any potential in carrying out redemption.
Her moment of realization happens too fast. In a book called Happily Ever Afters, our main character did not earn her ending. She did not put in the time to grow from a whole book's worth of mistreating her friends and avoiding schoolwork. It is so rushed that the promise of a change in her behavior is hollow, much like her romances and friendships.
Conclusion
Despite its issues, Happily Ever Afters is a quick, engaging, and entertaining read with promising lead and side characters. Its pacing and development issues do not take away from my enjoyment of the book. I would give Happily Ever Afters a rating between two and three stars (out of five).
If you want to read some more of my book reviews, I recommend this one about The Once and Future Witches or this one about Scythe. To see what I am currently reading, here are my Goodreads and Storygraph.