Reading Time:
3
minutes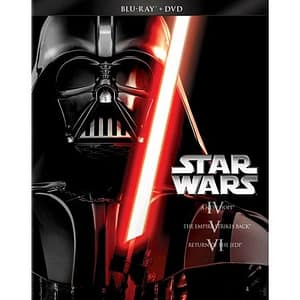 I watched
The Force Awakens
and I have been a fan ever since that late December of 2015. Afterwards, I have managed to acquire the original trilogy and the newest film on DVD and have been watching the daylights out of them.
Mental Power
What I truly love about these films is the lessons they posit, and the wonderful characters who are exposed to such pressures that push them to learn or at least understand difficult ideas. One of the most interesting lessons in Star Wars has to do with developing an understanding of one's mental and emotional strength. The Force is not a literal blunt physical strength. It is invisible and yet very powerful. Darth Vader is seen choking people with the Force. Kylo Ren pauses a blaster in midair with ease by the Force.
But, as Han Solo puts in the original trilogy, the Force is part of an old religion and is all woo woo. Yet, by The Force Awakens, he openly admits otherwise: that it is all real. The Force is not too far from the imagination; it is a metaphor for spiritual and overall mental strength. It can lead to great strength, but one must train to be mindful and meditative. In essence, this is what Luke Skywalker and Rey learn eventually. They learn to still their minds in moments of fear and stress, and they concentrate.
Here and Now
In other words, the lesson is to stay present in the here and now.
Yoda teaches this lesson in the original trilogy: anger leads to hate and hate leads to destruction. Ultimately, he depicts various wisdoms: first, looks can be deceiving. Rey was shown as a scavenger who is inexperienced when it comes to the Force. Somehow, her awakening is registered on Kylo Ren and Snoke's radar. She is an equal if not a superior Force user to Kylo, a man behind the terror across the galaxy. The same can be said about Kylo Ren, who is presented as a threat to the universe and yet, when Rey sees him without his mask, she finds him sympathetic and "sensitive." This is very important to note because Rey's initial assumption is that he's just a "creature in a mask."
Identity and Independence
Identity and independence are also themes in the Star Wars stories. We see it on both sides: Rey breaks free from Jakku scavenger life to become a Force user. Luke becomes a Jedi master after wanting to be a simple pilot with the resistance. Kylo Ren wants to achieve what his Darth Vader failed to do, and he rebels against his family in doing so. Finn was a nameless stormtrooper and yet Poe gives him a name, an identity, and they together accomplish missions for the resistance.
Love
The biggest weapon to be used in Star Wars worlds is love. It is Anakin's love for his children that ultimately gets rid of the Emperor. Luke's love for Leia drives him to save her in the first place (and even later on, he loves her and Han enough to save them from Jabba the Hutt). Compassion is a driving force (no pun intended) in these movies. Snoke accuses Kylo Ren of being too kind to Rey because he can relate to her. Why is this a negative thing? Well, it's mostly a "light side" trait. Luke understands his father and is compassionate enough to believe the best in him is yet to come, which turns out to be the key to Darth Vader's demise and the triumph of Anakin Skywalker (who knows what will happen to Ben Solo. I choose to believe that the best of him is yet to come. But, even if that's not the case, I find his struggle so, so meaningful and powerful).
Friendship is another strength in these movies. There are epic relationships, iconic, throughout Star Wars. The companionship of cute droids, nonhuman beings, and even humans make the main characters have lots to lose. The stakes are higher than ever. R2D2, C3PO, and even BB8, they are all endearing that I wonder if there is a lesson there, too. After all, the most enduring friendship in the series is that between a human and a wookie. Always, this universe was able to bring to life wonderful characters and break down barriers in its vastness. In the new installments, we see female stormtroopers, black stormtroopers, female force users, and young people part of both sides. I cannot wait to learn what else these films have to offer.
For More:
Lessons from Jedi Master Yoda 
Star Wars Is Not About Good and Evil 
What Star Wars Can Teach Us