Reading Time:
2
minutes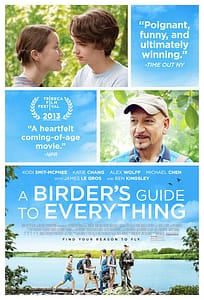 A Birder's Guide to Everything is a small movie with many credits to its accomplishments of brilliance. Well acted, beautifully shot, and wondrously written, the film spans over 86 minutes full of awesomeness. I thoroughly enjoyed it, to put it bluntly, because I felt that the film was executed well, but also because it has universal themes transcending age, race, and gender.
Nature and Its Beauty
David is a nerd. There is no denying this fact. His friends are in a birder club, where they talk about nothing but birds. Tim tells a disgruntled member of the club, "This is not a dating service" insinuating the seriousness of the club's tone. Losing said part of the group, the trio are stuck with Ellen as they try to photograph an extinct duck. 
Obviously, nature plays a huge role in the film. The friends can be seen identifying birds by their physical features or their sounds. And while there is plenty of beautiful scenery in the film, there is also an understanding of nature's cruelty presented. As a vegan, I interpret the death of the duck as a symbol of humanity's ignorance and disrespect to all beings, really. 
In a way, though, this demise leads David to understand that his quest is not realistic. You can't live a life watching birds without dealing with humans and all their baggage. We see this through his grief of his mother's death, his father's marriage, and the death of the duck. 
Adulthood and Maturity 
He also has to deal with the growing changes he and his friends face: adulthood and maturity. Throughout the film, Tim mocks Peter for not being brave enough. Tim was super interesting to me, because he reminded me of myself a bit…okay, a lot. The foul mouthed, show off, who is lying about his awesomeness resonates with me. Ellen is a challenger to his beliefs and attitudes as a young man trying to find his place in school's society and in the grander scheme of things. He gives her grief throughout the story until the annoying birders attack her which is when he defends her, "Her name is Ellen." The tension between them could be because he sees her as a sexually mature person, and it makes him uncomfortable. In addition, he does sense that she is interested in his best friend (David) and that is unnerving. 
Aside from all of this, it is a funny, poignant movie. It has beautiful relationships and endearing characters. Definitely one of my new favorites, for sure.