Reading Time:
3
minutes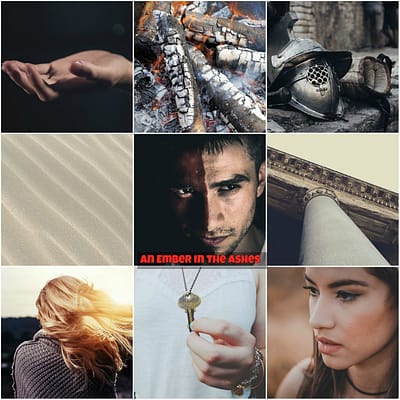 I read Sabaa Tahir's An Ember in the Ashes over the course of two days last week. It was easily one of my favorite reads this year. A review, thoughts, and rambles on An Ember in the Ashes, is in order.
The premise of An Ember in the Ashes
Sabaa Tahir creates a universe inspired by the Roman empire in An Ember in the Ashes. In a cruel world with militaristic tones, Elias and Laia live. Laia is a Scholar with ties to the rebellion. Elias is in training to be a Mask within the Martial Empire. His mother is the Commandant. He and his best friend Helene are preparing for their big tests.
Laia's brother is arrested for treason, and it leads Laia into the very core of the rebellion. Sent on a doomed mission into the Commandant's "home," Laia attempts to spy on the Commandant through her role as a slave.
But, when she and Elias meet, sparks fly. He, a soldier, and her a slave to an Empire unwilling to incorporate the Scholars into their society. Also: efrits, jinns, and other scary things roam the Empire.
What I liked
Let me preface this by saying that I loved An Ember in the Ashes as a whole. I gave it 4.5-5 stars because it was a quick, engaging, and addictive reading experience. So, here are some of my favorite things in this story.
First, Helene, my queen, pretty much stole my heart from page 1. She's like the Captain Phasma of these books, but on a conflicted one for sure. I enjoyed her dynamic with Elias, and how it clashed with other Masks in training with them.
Elias' inner turmoil also translated nicely onto the page. He clearly is very much a reaction to his mother's nature. And, I think he communicates the frustration with the system beautifully.
While Laia's storyline was sometimes painful because of all the torture she endures, I did like her persistence and her connection to her brother. She does get "visions" that are unexplained (or at least, still unclear to me). The beauty of her storyline is also in the irony of finding trust in the least likely spaces.
What I did not like
There were some irksome things in this book, I have to admit. First, I did not really buy the attraction/connection between Laia and Elias. It has happened way too fast. Then again, I do recognize that sometimes very sudden connections happen. Elias was already on the edge of renouncing his connection to the Empire. But, I do find it odd that he was willing to give it all up for someone he did not know very well.
Moreover, I think An Ember in the Ashes would have benefited from some additional points of view. For instance, I wanted more Helene's point of view (something that is remedied in the sequel, from what I have noticed so far). Another point of view I craved was the Commandant's own perspective. I am all for villains being mean and all that, but I also want to know why they function that way. What is their motivation? What drives them to be cruel and heartless?
Besides, the Commandant's birth of Elias is kind of unorthodox. I want more of the undertones of such an origin and how it influences their relationship.
Finally, I also want to see more Scholars. What makes them subservient to the Empire? What is the history of their conflict? Stuff like that could really clear up the tensions between these two groups.
Overall, though, this book was wonderful. I am working on reading the second one in the series. Cannot wait to see more Elias, Helene, and Laia.