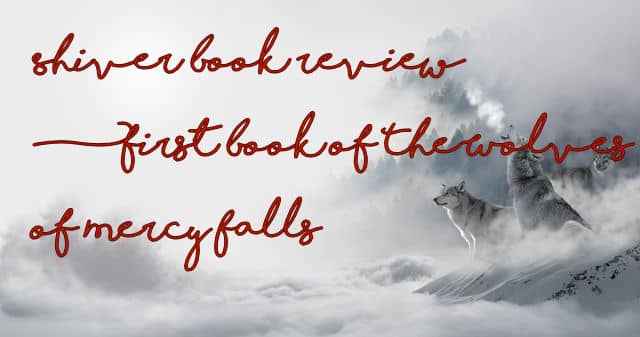 After reading the Raven Cycle, Maggie Stiefvater became one of the most interesting authors on my shelves. Many years ago, I had gathered the first books by her that I had heard of: The Wolves of Mercy Falls trilogy. Beginning with Shiver, this trilogy follows werewolves and a girl who is fascinated by them. Unlike the Raven Cycle, this trilogy involves plenty of kissing. Here is my review of the book.
Shiver and warm characters
One of the most surprising things that Maggie Stiefvater accomplishes in this first book is that she creates warm characters. Most books centered around mythological creatures tend to be bloated with world building. I like that this book focuses more on relationships.
There is a sense of urgency to Sam and Grace's relationship. It colors the relationship with a desperate and hungry tone. When they spend time together, it is domestic at best but they are both drinking in each other's features, personalities, and quirks. It warmed my heart to see such a love story. To an extent, this ache reminded me of Gansey and Blue in the sense that there are forces beyond the characters, driving them apart.
But, the pack itself was messy and charming, just like a family. I did not expect this either because The Raven Boys had a smaller friend group, and it was not even a set group (new members introduced toward the end of the book series). The complicated dynamics between members of the pack made things even more interesting and realistic. It grounded the story.
The Lone Wolf
I was actually surprised by who is actually the lone wolf. It's Grace! She is invested in these wolves so much that it often alienates her. Her friendships are rocky and so are her connections to family. This makes her relationship with Sam more intense, more desperate and crucial.
But, of course, the other lone wolf in this is Jack Culpeper. His sister surprised me with her curiosity and cleverness. It is rare in books when so many people are in "the know" about the supernatural creatures in the story. Often, I tried to push myself to empathize with Jack, even though he made a mess in terms of plot. I look forward to his development as a character (and as a wolf).
Dropping Temperatures
With each chapter, the temperature drops and it raises the stakes of this love story. It becomes very clear that Sam is not the Jacob Black of Maggie Stiefvater's writing. He is sensitive and frank, a pacifist and an artist. In other words, he is our pure cinnamon roll and he must be protected.
Shiver Rating and Final Thoughts
Overall, this was a nice and quick read. It was moving and sweet, but it also lacked depth in terms of character development and conflict. Perhaps this will change in later books. I will say that Stiefvater gets points for creating male characters that do not adhere to strands of toxic masculinity. So, that's nice to see.