Reading Time:
2
minutes
The Love for V.E. Schwab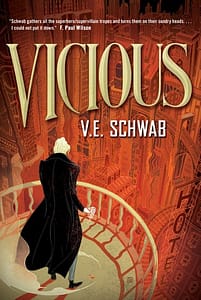 I started reading V.E. Schwab's work about a year ago. Prior to this, I had only collected her books with some vague assumptions of their greatness. Having read most of her stories, I had one more book to go: Vicious. Back when I was sure of my belonging in Slytherin, I thought of this book as a staple to the nature of that house.
The Premise of Vicious:
The story alternates between two points of a decade where two friends prepare for their thesis in university. Eli and Victor unravel the process of becoming people with powers. At the end of the timeline, we see Eli and Victor as sworn enemies.
Through a cat-and-mouse chase, we get to see the tension between these former friends crackle to life while they rely on two allies who were sisters, Sydney and Serena.
Vicious and Morality
My favorite aspect of this story is the opposite journeys we experience with Eli and Victor. At first, I was certain that Victor would not ever make sense but the biggest surprise is watching Eli become bewilderingly nonsensical. I mean, I follow his train of thought, but my goodness, he is terrifying.
The most shocking element in Eli's thinking was how warped his faith in God collided with his view of the powers he has and the attitude he has towards other EOs.
Reminding me of Leigh Bardugo's Six of Crows, Vicious had me cheering for the "bad" guys. For the most part, the antagonists (in the novel's society, at least) were simply trying to exist. They were on the run. While Victor does terrible things along the way, he is focused on facing Eli, who did some shady things, okay.
Connections in Vicious
Serena and Sydney mirror Eli and Victor's closeness in the earlier sections of the book's timeline. There are loads of mistrust and uncertainty. Besides, the chase between the two sisters was also ruthless.
The bad blood between Eli and Victor bound the story's plot in thick threads and tendrils. Like all relationships, the way each person acts is a result of a series of perceptions. Eli thinks of himself in a certain way, and he reacts to other EOs because of this view. The same thing can be said about Victor (who is kind of my baby, I just want you to know this upfront).
That Ending…
Oh, this book ends with the tables totally turned. I have never been this happy about a smile.
Easily, this novel is among my favorites. It was so good.