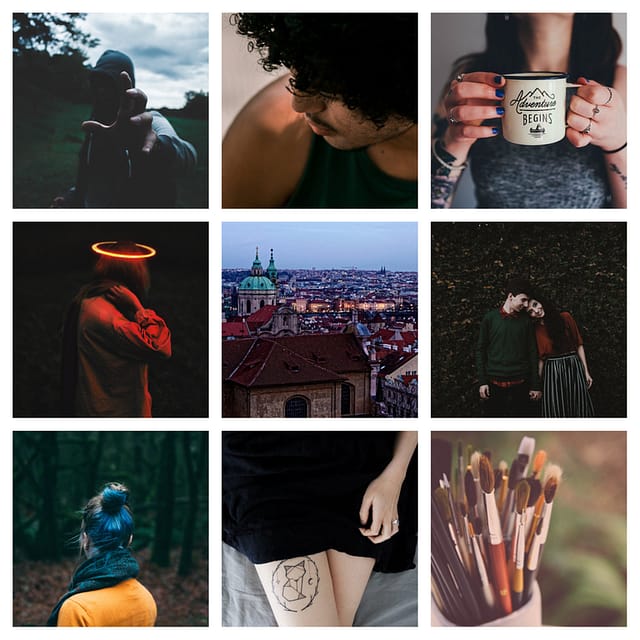 **Before I continue, I have to credit the following brilliant photographers:
Blue haired girl photo by Ben Waardenburg on Unsplash
Halo photo by Ravi Roshan on Unsplash
Hand reach out photo by Ian Espinosa on Unsplash

Leaning Together Photo by Joao Silas on UnSplash Dark Curls Photo by Carlos Arthur on Unsplash
I hesitated to read Laini Taylor's novels for a long time as I sniffed out the rumor of a slow-paced discography. Something compelled to keep her work around. Thus, when the courage pooled around my head, I grabbed Daughter of Smoke and Bone, expecting nothing. Let me tell you about my favorite book of the year thus far.
Premise
Karou is an odd girl. Naturally blue hair, hamsas in her palms, and a father figure who trades with teeth. She has no parents, no family, and she draws surreal creatures that she claims to know on a one-on-one basis.
When her portal to a world of magic is sealed, and a mysterious figure follows her, she comes to face her identity, roots, and her connection to the mysterious Akiva.
Book Review-Character Love
Laini Taylor writes Prague such fond tenderness. I could almost taste the pastries Karou and Zuzana eat. The lively streets, the colorful costumes, the tourists wandering, the hushed tones of Karou's mysterious life urging me to keep on reading. It was delightfully surprising to finish the book in two days.
First, let's talk about Karou, who, even with all the secrets she keeps, she maintains a softness and purity that led to my completely unwavering loyalty toward her. She gets hurt and uses wishes for revenge. Her manner of responding to cruelty is never exceedingly vicious. I mean, her ex-boyfriend got an itch while posing for a nude portrait. But, as the story unfolds, it becomes abundantly clear that this jerk hurt her in a way much more likely to leave a scar.
Akiva is still a mystery. I know the word is overused in this review but it's from lack of information on him, truly. I like his quiet strength, the way his past haunts him, his isolation.
It's amazing to contrast Akiva/Karou with Zuzana/ Mic. Zuzana, the fierce and tiny friend of Karou's, left my heart aflutter. Seriously. She and Mic were so cute and I hope to see more of them in later books because they have a nectar-sweet presence that I find myself missing often.
Overall
This book was a delightful experience and I cannot wait to read more Laini Taylor books. She writes with such elegance and depth. Her characters are tangible yet somehow otherworldly. I loved Daughter of Smoke and Bone.