Reading Time:
4
minutes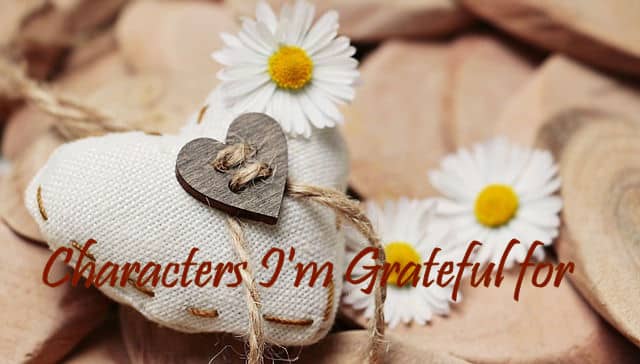 Top Ten Tuesday is a meme run by the lovely The Broke and the Bookish. For this week's Top Ten Tuesday, I will be deviating from the prompt because it is exactly the prompt for Top 5 Wednesday. I'll be discussing my top ten characters I am grateful for this season.
Let's go.
10. Raisa from the demon king by Cinda Williams Chima
This queen heir is driven, curious, clever, and brave. I just like that she is willing to learn more about her  people rather than live in ignorance. Plus, she doesn't rely on people around her to inform her of what her country is like. Instead, she goes out there to see for herself. And, I love her so much.
9. felicity from the gentleman's guide to vice and virtue by mackenzie lee
Felicity, my soul sister, has the best lines in this already-hilarious-and-poignant-book. I love how different she is from people of her time. She's progressive, clever, and so funny. Plus, that ending with her next adventure is just perfection. I cannot wait to read her story.
8. the falconer trilogy by elizabeth may
I am grateful for the female characters in this trilogy. Elizabeth May features abuse survivors and it means the world to me to see women building each other up. The way they encourage one another, and sympathize and connect together was so moving to me. Can't say who deals with what, obviously, but these ladies meant a ton.
Oh, and obviously, I will always be grateful for Derrick, my love.
7. diana from lord of shadows by cassandra clare
Strong, resilient and beautiful: these are some of the ways I describe Diana. Cassandra Clare introduces strong women in her stories, and with each series, she brings in even more different ways for strength to manifest. While I love Emma and Clary, Diana made my heart sing. Obviously, she and Maia will be my babies forever.
6. shadow and bone by leigh bardugo
"I am not ruined. I am ruination." I am grateful for this line and the person who says it. Hands down one of the coolest moments in my year.
5. a darker shade of magic by victoria schwab
Delilah Bard is my dream self and my dream friend all rolled into one. I just wish I had her guts and her confidence. Having met her in the book is a highlight of my year, because I keep thinking of her. If you ever stumble on my Tumblr, I am always looking for quotes and moments about Delilah Bard. Needless to say, I am ever so grateful for her.
4. weight of feathers by anna-marie mclemore 
Lace and Luc, my precious babies, I loved meeting them, and witnessing their beautiful love story unfold in this debut by one of my favorite authors. Where are all the fan videos and the mood boards, and the fan casting? Come on, peeps, get on it!
3. six of crows by leigh bardugo
Oh my Lord. How much do I love this cast of characters, I will never be able to fully explain! Kaz, my gloomy child, and the rest of his team made a lasting impression. Inej and Nina are people I wish I'd become somehow. Wylan, Jesper, Matthias made me laugh and choke up.
2. the raven cycle by maggie stiefvater
My darling Blue Sargent, my intimidating and yet total cinnamon roll Ronan Lynch, Adam, and Gansey: I am grateful that we met this year. Their friendship is so beautiful. To the dearest ghost I have ever met, Noah Czerny, I think of you often. I am grateful you exist.
 1. harry potter series by jk rowling
Hermione Granger, Harry Potter, and Ron Weasley are my favorite buddies of all time. There are many things I don't like about this series, so many flaws and I wish the author would take ownership of such mistakes. But, still, it was an effective story, full of incredible characters. My dear Neville Longbottom, you are fantastic. Luna Lovegood, Tonks, Remus Lupin, Sirius Black, and so many other characters I carry with me always. I am grateful for this series.