Reading Time:
3
minutes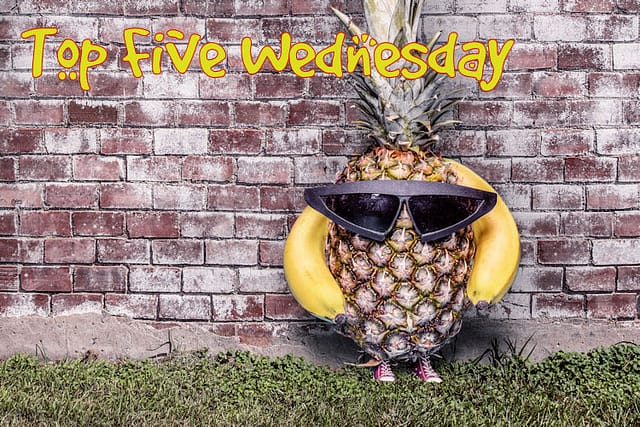 Ah, it's Wednesday! This means two things: a) we're halfway through the week, and b) we are due for another Top 5 Wednesday. This week's topic is our Top 5 Hate to Love Relationships. Before I begin, let me link the Goodreads group for Top 5 Wednesday so you can join us next week.
5. The Wrath and the Dawn by Renee Ahdieh
Shahrzad and Khalid have a difficult start in their relationship. Look, he executed a lot of women. While there is a "reason" for his behavior, Shahrzad's intentions for agreeing to marry him are rather dark. She wants to kill him and avenge her friend's death.
The funny thing is that I haven't finished this duology. I will, I promise. It's just that they fell in love kind of quickly. I like their connection. But, I just wish there was more angst (I like angst).
4. The Winner's Kiss by Marie Rutkowski
At the beginning of this story, Arin dislikes Kestrel with a fiery passion. Not to take sides or anything, but he has a right to be this angry (I think so, anyway). Kestrel's family is influential in her society. As a society, they are responsible for the demise of the Herrani society and their enslavement.
Political intrigue, miscommunication, separation are all causing a rift between these two people. For a long time, I thought they were not going to get their happy ending. Even when they do, there's a lot of loss. Just like life. I love their story.
3. Six of Crows by Leigh Bardugo
Listen, Matthias and Nina are the BEST. I cannot get over their relationship, the deception, the politics, the violence, the love! It's just a very complex relationship. They are so different and they come from drastically different societies.
I admire Nina a lot, and I appreciate Matthias and his strengths.
However, I do hope his ghost can beat up Kaz's ghost at some point.
2. Harry Potter
Ron Weasley and Hermione Granger are the epitome of hate-to-love relationships. I understand that some people feel that Ron is undeserving of Hermione, but, listen, on this blog The Cursed Child doesn't exist. Ron was always at odds with Hermione. They bicker all the time.
But, I love them together.
 1. Pride and Prejudice
Mr. Darcy, the grumpiest and most anti-social man Lizzie has ever seen, is harsh to her. "Barely tolerable." Their love story is so beautiful and sweet. Again, there's a lot of miscommunication and dislike (very passionate dislike on Lizzie's part). It's a slow burn. And, it is perfect.